CENTER FOR VIRTUAL IMAGING TRIALS
A virtual platform for evaluating medical imaging technologies from design to use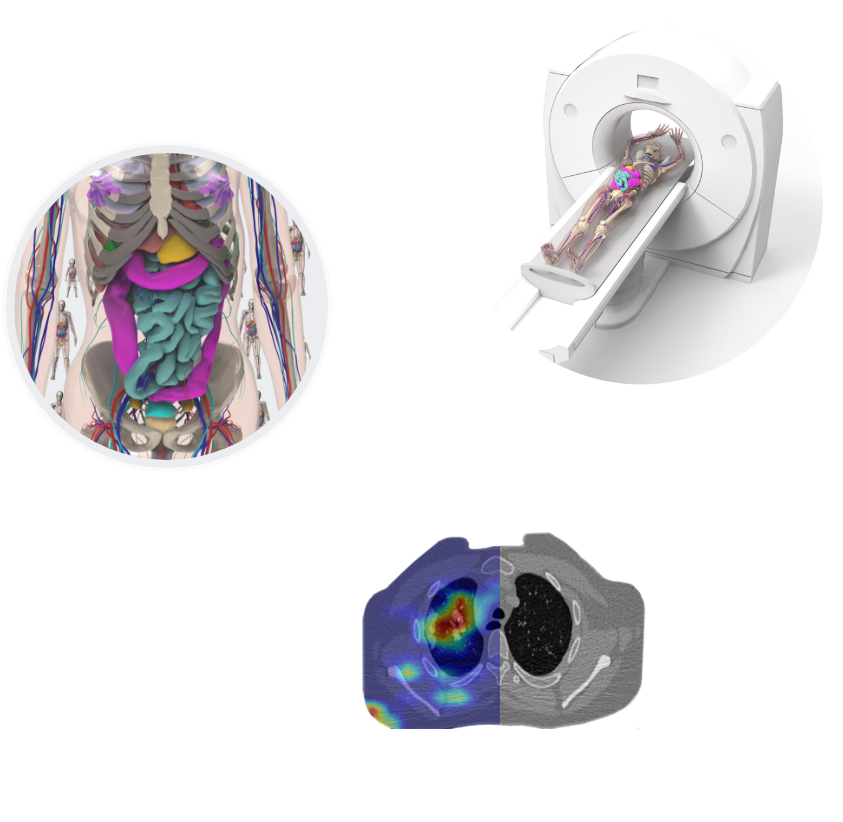 CVIT is a National Center for Biomedical Imaging and Bioengineering supported by the National Institute of Biomedical Imaging and Bioengineering (NIBIB) and operated at Duke University.
Two phantoms the Center helped with, Helga and Zohar, are set to launch on NASA's Artemis I rocket. The phantoms will be taking a trip around the moon to measure radiation exposure as they travel through space. The ultimate goal is to explore the possibility of sending humans to Mars.
We offer an efficient methodology for evaluating imaging technologies and applications in silico using computational models simulating the patient, the imaging system, and the image reader.
These models comprise our three technology, research, and development (TR&D) endeavors, where we continue to provide realistic computational models of human anatomy (virtual patients), state-of-the-art CT scanners (virtual scanners), and clinically relevant image analysis (virtual readers).
The TR&Ds work synergistically to offer comprehensive resources and essential training to partners through our various collaborative and service projects as well as training and dissemination efforts.
Toolbox for mathematical observer model calculations, designed to produce image quality figures of merit from simulated image data from CVIT.

Pipeline includes eleven unsupervised binary segmentation methods and a feature extraction module to calculate various radiomics features for an image and its binary segmentation pair.
CT patient images and associated verified Monte Carlo based estimates of organ doses that may be used for benchmarking different organ dose estimation techniques against a reference standard.

Library of anatomy files that work with the XCAT 2 program or can be used with other programs that work with 3D CAD geometries.
The Center for Virtual Imaging Trials is presenting 18 scientific studies at SPIE Medical Imaging 2022 conference that will be held in San Diego (California) 20-24 February. The SPIE medical imaging chapter focuses on the latest advances in image processing
A new NIH R01 grant titled "Accuracy and Precision in CT Quantification of COPD Through Virtual Imaging Trials" was just awarded to Ehsan Abadi, one of the principal investigators of the Center for Virtual Imaging Trials.
Duke Radiology has obtained an innovative new generation of photon-counting computed tomography from Siemens Healthineers, one of the first research prototypes worldwide.